The EdCamp Foundation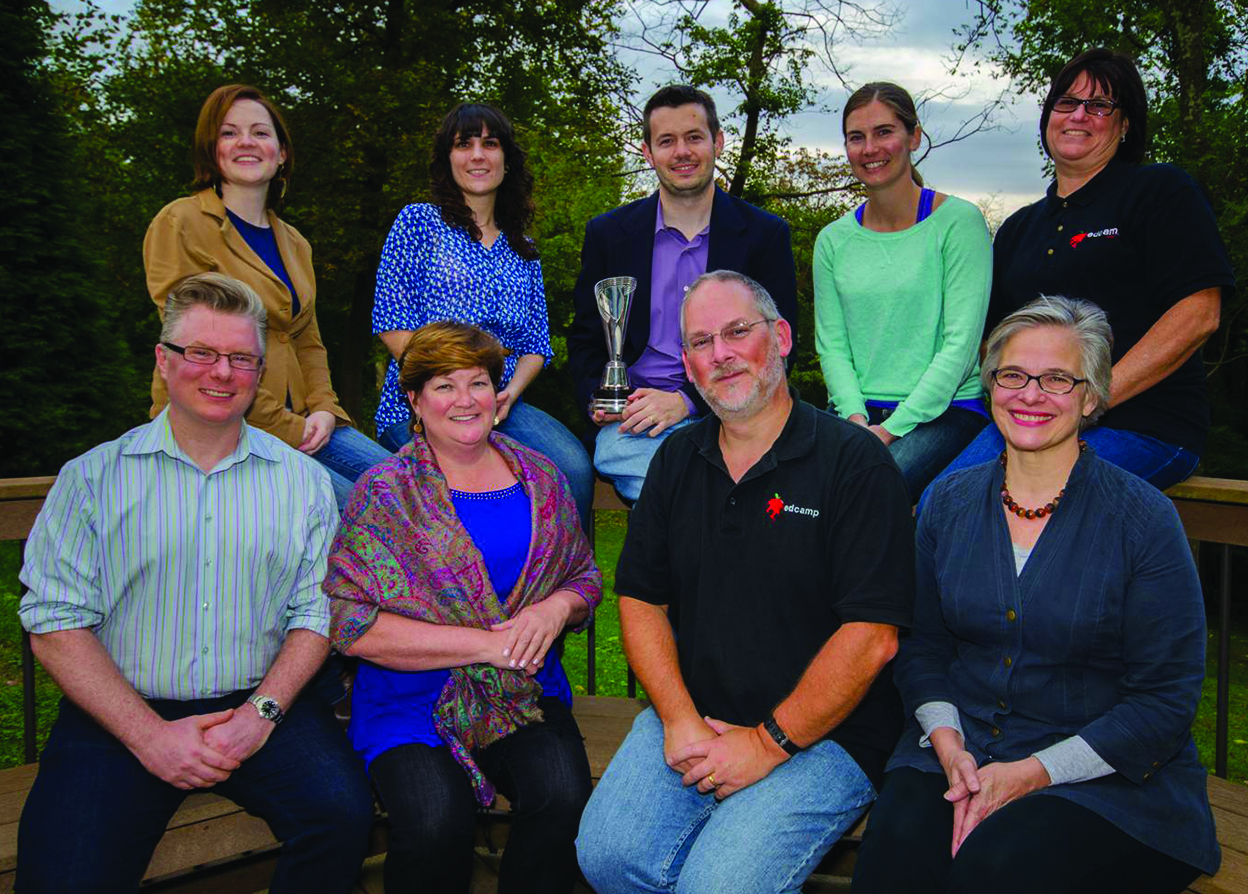 Built on principles of connected and participatory learning, Edcamp strives to bring educators together to talk about the things that matter most to them: teaching and learning.
Edcamps are:
free
non-commercial and conducted with a vendor-free presence
hosted by any organization interested in furthering the Edcamp mission
made up of sessions that are determined on the day of the event
events where anyone who attends can be a presenter
reliant on the "law of two feet" that encourages participants to find a session that meets their needs.
The first Edcamp was held in May 2010 by a group of educators in Philadelphia. Since then, there have been over 500 Edcamp events in dozens of countries. In December 2011, the original founders of the Edcamp movement (and the authors of this text!) established the Edcamp Foundation to assist Edcamp organizers and support the growing community of Edcampers. All of the proceeds from this book will fund the efforts of the Edcamp Foundation in their mission to "build and support a community of empowered learners."
The Edcamp Model is written by lead author Kristen Swanson and the other members of the Edcamp Foundation Board:
Kristen Swanson, Ed.D. helps teachers design meaningful, interactive curricula at the local and national level. She has taught at the elementary level, served as a regional consultant for Response to Intervention, and worked as an educational technology director for a public school district in Pennsylvania. She holds a B.A. degree from DeSales University, two M.A. degrees from Wilkes University, and an Ed.D. degree from Widener University. Kristen is currently an adjunct in the DeSales University instructional technology M.Ed program and a senior research leader for BrightBytes.
In addition to her experience as an educator, Kristen is also passionate about meaningful professional learning. She currently serves as a member of the Edcamp Foundation Board, and she is the chair of the longstanding Edcamp Foundation Partner Program. She has shared her ideas and expertise at ASCD conferences, TEDxPhiladelphiaEd, TEDxNYED, and Educon. She has also been published in academic journals, including Literacy Learning: The Middle Years and the Journal of Reading, Writing, and Literacy. She is the author ofProfessional Learning in the Digital Age: The Educator's Guide to User-Generated Learning, Unleashing Student Superpowers, and Teaching the Common Core Speaking and Listening Standards.
Kristen is active in the educational technology sphere. She is a Google Certified Teacher, Twitter Teacher, Edublog Award Nominee, and avid blogger. She strongly believes that rigorous curriculum fosters meaningful technology integration, and she is also interested in the learning opportunities provided by asynchronous learning.
Members of the Edcamp Foundation Board:
Kristen Swanson, Board Member
Senior Educational Technology Leader
BrightBytes
San Francisco, CA
Hadley Ferguson, Board Member
Teacher
Springside Chestnut Hill Academy
Philadelphia, PA
Dan Callahan, Chairman
Instructional Technology Specialist & Professor
Burlington Public Schools
Arlington, MA
Kevin Jarrett, Vice Chairman
Teacher
Northfield Community School
Northfield, NJ
Mary Beth Hertz, Treasurer
High School Art & Technology Teacher, Technology Coordinator
Science Leadership Academy
Philadelphia, PA
Ann Leanness, M.Ed.
Teacher
Franklin Learning Center
Bucks County, PA
Christine Miles, Ed.D., Secretary
Director of Consulting Services
Authentic Education
Haddon Township, NJ
Kim Sivick, M.Ed, Board Member
Director of Professional Development
Pennsylvania Association of Independent Schools
Philadelphia, PA
Michael Ritzius, M.Ed., Board Member
NJEA
Associate Director of Professional Development
Philadelphia, PA